Posts for: October, 2017
While most tooth loss stems from dental disease or injury, another major cause is a condition known as cracked tooth syndrome. What begins as a microscopic crack in an individual tooth's enamel could ultimately grow to a fracture that endangers its survival.
Most often related to age-related brittleness, expansion and contraction of the enamel surface because of hot foods followed by cold foods and beverages, or grinding habits, cracked tooth syndrome usually occurs in three phases. The first phase is the emergence of miniscule cracks in the outer enamel known as craze lines. These can be very difficult to detect even with x-rays, and usually calls for specialized detection methods such as probing with a sharp instrument (an explorer) or fiber-optic lighting with dye staining to highlight enamel abnormalities. If you have pain symptoms, we may ask you to bite down on a bite stick or rubber pad to locate the area by replicating the sensation.
In the next phase, the craze line grows into a crack that penetrates below the enamel into the tooth's dentin. Pain becomes more prominent and the risk of infection increases. Left untreated, the crack may enter the third phase, a full break (fracture) occurring deep within the inner layers of the tooth. The deeper the fracture occurs, the more serious the danger to the tooth, especially if the pulp is exposed.
The best treatment approach is to attempt to detect and treat a crack as early as possible. Craze lines and moderate cracks can usually be repaired with restorative materials like composite resins. A deeper crack extending into the pulp may require a root canal treatment and the tooth covered with a permanent, protective crown.
If, however, the fracture is too deep, the tooth may be beyond repair and will need to be extracted and replaced with a dental implant or permanent bridge. In any event, the sooner a cracked tooth is discovered and treated, the greater your chance of avoiding pain, discomfort, and, ultimately, tooth loss.
If you would like more information on cracked tooth syndrome, please contact us or schedule an appointment for a consultation. You can also learn more about this topic by reading the Dear Doctor magazine article "Cracked Tooth Syndrome."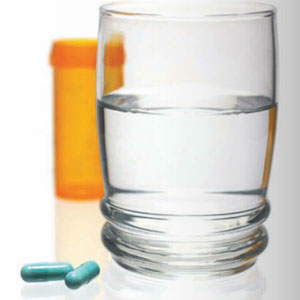 Office cleanings and other minor procedures are a routine part of regular dental care. For some people, though, a routine visit could put them at slight risk for a serious illness.
The reason for this concern is a condition known as bacteremia. This occurs when bacteria, in this case from the mouth and conceivably during an office cleaning or other routine dental procedure, enters the bloodstream. Although for most people this isn't a great issue, there's been concern that bacteremia could further compromise the health of patients with or susceptible to other conditions like endocarditis (heart inflammation), prosthetic joints or compromised immune systems.
This concern grew out of a number of studies in the early 20th Century that seemed to show a link between dental bacteremia and infective endocarditis. At about mid-century it became a common practice to administer antibiotics before dental work (usually 2 grams of amoxicillin or an equivalent about an hour before) to high risk patients as a way of protecting them against infection. The practice later expanded to other health issues, including many heart conditions.
Beginning in 2007, however, guidelines developed jointly by the American Heart Association and the American Dental Association reduced the number of conditions recommended for antibiotic therapy. Based on these guidelines, we now recommend pre-procedure antibiotics if you have a history of infective endocarditis, artificial heart valves, certain repaired congenital heart defects, or heart transplant that develops a subsequent heart valve problem. Patients with prosthetic joints or immune system problems are no longer under the guidelines, but may still undergo antibiotic therapy if believed necessary by their individual physician.
If you have a condition that could qualify for antibiotic therapy, please be sure to discuss it with both your dentist and physician. We'll work together to ensure any dental work you undergo won't have an adverse effect on the rest of your health.
If you would like more information on antibiotic therapy and dental care, please contact us or schedule an appointment for a consultation. You can also learn more about this topic by reading the Dear Doctor magazine article "Antibiotics for Dental Visits."